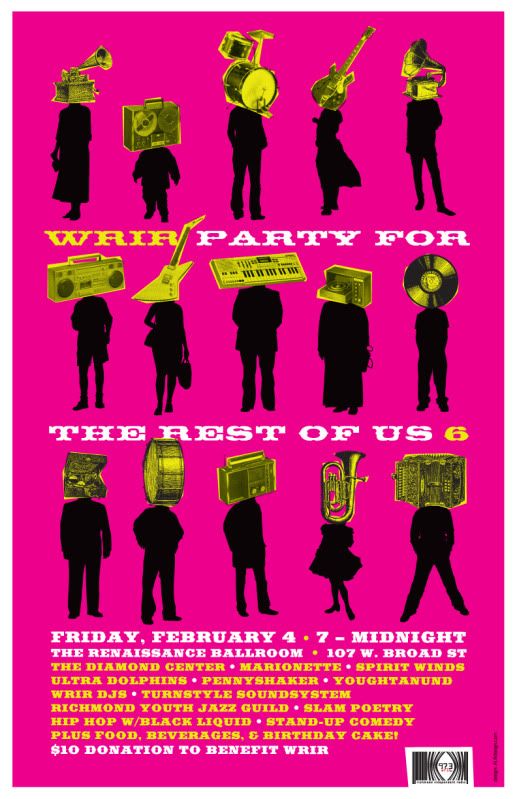 WRIR's 6th annual anniversary party, The Party For The Rest Of Us, gets rolling right after Global A Go-Go wraps up at 7 PM on Friday night. All the info you need is right here:
http://wrir.org/index.php?/blog/entry/2129
To get you warmed up for the party, I'll close the program with a full hour of Club Global A Go-Go -- some of the all-time audience favorites from the first six years of my program, mixed for your dancing and listening pleasure and guaranteed to get you motivated for a big night out, hopefully at the Renaissance Ballroom (107 West Broad Street in Richmond).
I'll turn up the heat slowly in the program's first hour with new releases from Chris Velan and Mamadou Diabate, and classics by Johnny Clegg and the Rail Band, among others.
Click "Read More" for today's tracklist. Click here for a podcast of today's program:
http://www.radio4all.net/index.php/program/49176
The complete catalog of Global A Go-Go podcasts is here:
http://www.radio4all.net/index.php/series/Global+A+Go-Go
Song | Artist (Country) | Recording | Label | Year
Separation | Oliver Lake (USA) | Matador Of 1st & 1st | Passin' Thru | 1996
Global A Go-Go | Joe Strummer & The Mescaleros (UK) | Global A Go-Go | Hellcat | 2001
Inez | Chris Velan (Canada) & Sierra Leone's Refugee All Stars (Sierra Leone) | single | Cumbancha | 2011
Darlin' Do Not Fear | Brett Dennen (USA) | So Much More | Dualtone | 2006
I Know What I Know | Paul Simon (USA) | Graceland | Warner Bros | 1986
Tough Enough | Johnny Clegg & Savuka (South Africa) | Heat, Dust & Dreams | Capitol | 1993
Janfa | Orchestre National Du Mali (Mali) | Free Africa, Disc 1 | Le Son Du Maquis | 1970
Madi Guindo | Rail Band (Mali) | African Pearls: Mali, One Day On Radio Mali | Syllart | 1977
Humanity | Mamadou Diabate (Mali) | Courage | World Village | 2011
Le Reve De L'Oiseau | Ba Cissoko (Guinea Conakry) | Electric Griot Land | Totolo | 2006
Everyone's A Winner | Banda Uniao Black (Brazil) | Banda Uniao Black | Vampisoul | 2006
Call My Name | Joe Bataan (USA) | Call My Name | Vampisoul | 2005
Coulibaly | Amadou & Mariam (Mali) | Dimanche A Bamako | Nonesuch | 2004
A Tulawin | Idir (Algeria) & Manu Chao (France-Spain) | Identites | Sony France | 1999
Rock El Casbah | Rachid Taha (Algeria-France) | Tekitoi | Wrasse | 2004
Balkan Qoulou | Dunkelbunt (Austria) feat Watcha Clan (France), Cloud Tissa (Kenya) & MC Killo Killo (Serbia) | Raindrops And Elephants | Piranha | 2009
50/50 | Mandoza & M'du (South Africa) | Godoba | CCP | 2001
Truth Don Die | Femi Kuti (Nigeria) | Shoki, Shoki | MCA | 1999
Oye Como Va | Professor Angel Dust & The pH Force feat Mucho Muchacho (Spain) | Guapacheando | Virgin Benelux | 2000
I Like It Like That (Aaron Jerome remix) | Pete Rodriguez (USA) | I Like It Like That | Fania | 2008