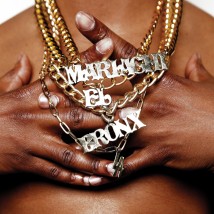 ARTIST: Mariachi El Bronx
TITLE: Mariachi El Bronx (II)
LABEL: ATO
REVIEW:
The Bronx is a punk-rock band from Los Angeles. Somewhat inexplicably they started a
mariachi
side project called Mariachi El Bronx in 2006; this is the side project's second album.
For me that's a pretty unpromising back story, but there's a reason you listen to the music and not just read the press kit -- this is a damn good album. The music is faster, more driving and generally more rocking than most
mariachi
(lyrics are 99% in English, if that's of interest to you); the band makes a brief, successful detour into Tex-Mex
norteno
music a la the Sir Douglas Quintet on track 5 as well. Singer/lyricist Matt Caughthran seems to be channeling the emo side of his personality here, which is totally appropriate -- after all, there's no music more emo than
mariachi
. I have no idea how this stuff plays with The Bronx's core audience or what the marketing angle is for a band with this kind of split personality, but none of that matters when you're listening to them. Anyone who likes roots-rock with a little ethnic
sabor
will get a giant kick out of this fine release.
TOP TRACKS: 1 3 5 6
ALSO RECOMMENDED: 2 7 8 9 11