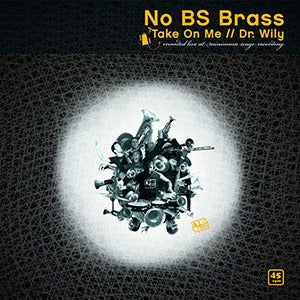 ARTIST: various artists
TITLE: Electric Cowbell Fall 2011 45RPM Releases
LABEL: Electric Cowbell
REVIEW:
Ex-Richmonder Jim Thomson's Electric Cowbell Records released a set of seven new 45s on October 11.
EC continues to be global in scope -- you'll hear Malian, Brazilian, Ethiopian and afrobeat sounds on these releases. And once again, Richmond artists are well represented on the EC roster, with 45s by NO BS! Brass, Os Magrelos (Bio Ritmo keyboardist Marlysse Simmons' off-center take on Brazilian music), plus DC-based griot and
ngoni
player Cheick Hamala Diabate. Both of Cheick Hamala's tracks (3 and 4) excel -- they're basically traditional Mande music filtered through his American experience (he's lived here for about 10 years now). Os Magrelos describe their sound as "samba-rock"; track 5 is a woozy, Farfisa-heavy riff on a classic samba tune. NO BS! is noted for their brass-band arrangements of unlikely material -- track 10 gives a second-line strut to A-ha's synthpop hit "Take On Me." Track 12 is the incendiary Debo Band captured live in Ethiopia, hard-swinging a 70's Ethio-soul classic. There are few record labels in the world with this kind of scope and ambition -- bravo, Electric Cowbell.
TOP TRACKS: 4 5 10 12
ALSO RECOMMENDED: 1 2 3 8 9 11